Idaho Bear Hunts
Our Idaho Black Bear Hunts are 5 days in the Spring and Fall. These hunts are some of our favorite times of the year. Bear camp is a fun camp and full of excitement.
We offer bait and hound hunting for our bear hunts but the most successful hunt is over baits from tree stands or ground blinds. Speaking of success, our bear hunts are very successful but these are not guaranteed hunts. Your success is going to depend on your own ability to be still and make good shots.
We keep trail camera's on all the bait sites and bait daily. Hunters typically go to their tree stand or ground blind around 3 pm and will hunt until dark. Hunters will go out hunting in the morning as well depending on bear activity taking a break for lunch. Stands and blinds are located anywhere from 20 to 70 yards from the bait. Every client will have a 2 way radio with them to communicate with base camp. In the morning guides bait early and collect game camera chips so we can plan the days hunt. *Hunters are required to bring their own safety harness for tree stands.
Early Spring in May and June we will use our off road vehicles to get you into camp. After the 2nd week in June and Fall hunts clients drive their vehicles right to base camp. If you are flying into Missoula Airport you will rent a vehicle to drive to camp. Directions to camp will be sent to you after booking your hunt.
Base Camp consists of a large kitchen wall tent where we will eat our home cooked meals the cook has prepared for breakfast, lunch and dinner. Client tents vary in size depending on the number of people in your party. Client wall tents have wood floors and are fully equipped with cots and sleeping pads, power outlets to charge gear while generator is running and good wood stoves to stay warm. Camp also has a shower tent with instant hot water as well as a latrine.
When you are not on your bait hunting we will be fishing the creeks or mountain lakes on mid June spring hunts and fall hunts, or exploring around camp. It will be up to you if you'd like to relax around camp or stay active before hunting. There is a lot of fun to be had at our bear camp.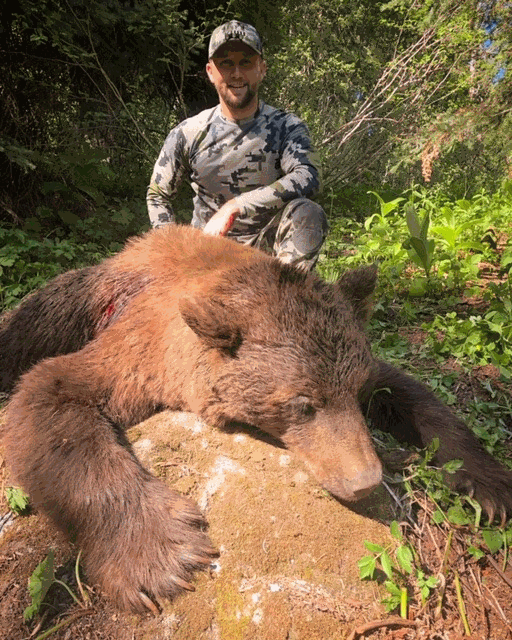 CJay's pope and young bear
5 Day Spring / 5 Day Fall Hunting Dates
SPRING 2020 AVAILIBILITY
May 18-22 - 6 spots
May 25-29 - 4 spots
June 1-5 - 2 spots
June 15-19 - 4 spots
June 22-26 - 6 spots
FALL 2020 AVAILIBLITY
Aug. 30-Sept. 3 - 6 spots
Sept. 11-15 - 6 spots
Sept. 17-21 - 6 spots
Sept. 23-27 - 6 spots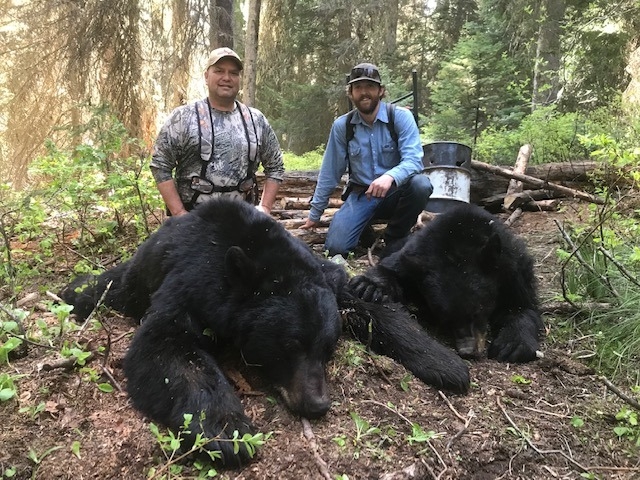 License's and Tags
Licenses and tags for our area are over-the-counter. You can either purchase your tags online or at a local vendor either Sportsman's Warehouse or Cabela's in Missoula Montana before you arrive at camp. *Our area is a 2 bear area. You can either come to camp with 2 tags in your pocket or go back to town and purchase your 2nd tag after you harvest your first bear. 2nd bear is $1,000 to hunt.
$ Cost of license and tags:
$154.56 non-resident license
$10. conservation fee
$41.75 bear tag unit 12/Lolo zone
$41.75(second bear)
$31.75 Wolf tag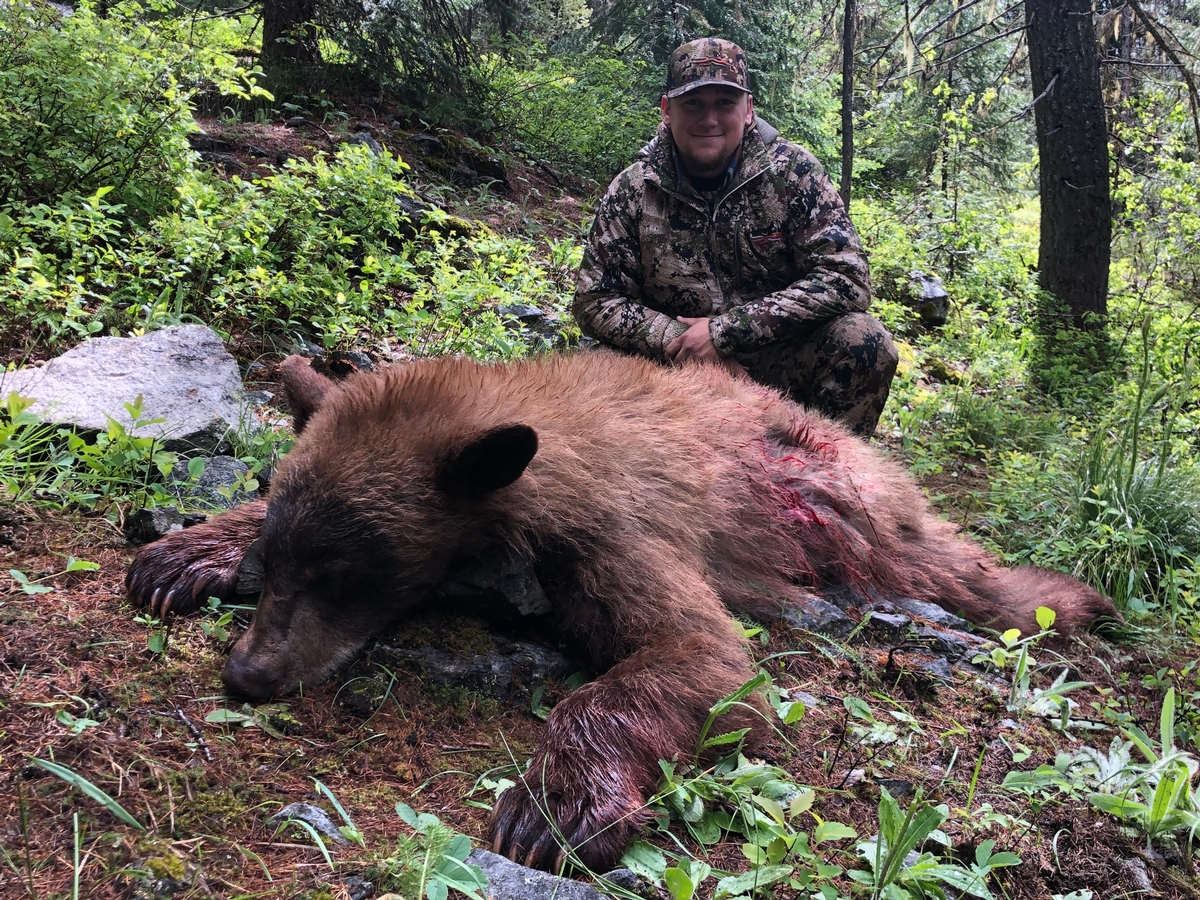 JD's blonde bear
Hunt Prices
Spring: $2,550 per spring hunter. $1,000 for 2nd bear.
Fall: $2,250 per fall hunter. $1,000 for 2nd bear.
Hounds: $3,250 to hunt with hounds. 1 bear only
*$1,500 for non-hunters if there is room available in camp.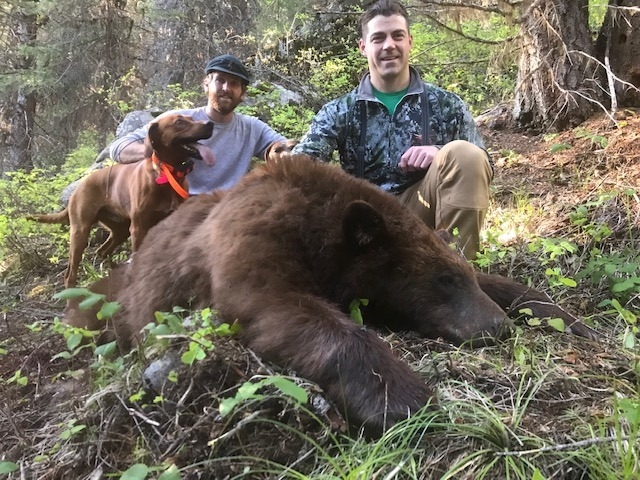 Tony's chocolate spring bear
What to Bring on your Hunt
Weapon and Ammo
Headlamp and 20 batteries
Camera
Warm clothing for sitting in stand
Personal toiletry items, towel/medications
Sleeping bag/pillow
Day pack
Water bottle
Hiking boots
Bug spray
Safety harness (REQUIRED)
Guide/cook tip
License
Please remember this is a back-country hunting camp and pack accordingly. We have no way of knowing what the weather might be. Your physical condition and ability to do what the guide suggests will play a very big role in your hunt.